WHO WE ARE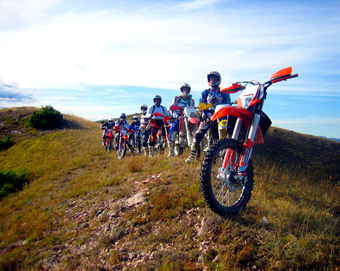 A group of friends with the passion for motor-biking and in particular for Enduro-riding.
A team of pros with more than twenty years of experience in competitions of every kind, including the astonishing African rallies.
We gave ourselves a name that... says it all: Team Audax. By the way, Audax is the latin for "daring".
I, Attilio Ginepro, founder and leader of the team, have been a biker and an Enduro-rider all my life and I participated in many African rallies such as the mythical Paris – Dakar.
My fellow riders and I have joined together to provide you, with whatever Enduro experience you might chose, with exciting excursions through the beautiful Italian landscape.
WHAT WE OFFER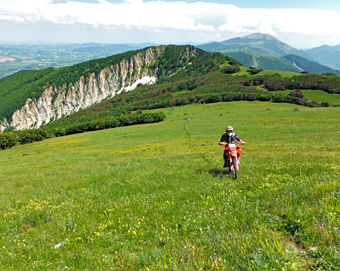 We organize TOURS IN ENDURO through 4 regions of central Italy: Tuscany, Marche, Umbria and Romagna, travelling on astonishing off-and-on roads trails, through an unbelievable variety of roads and trails, dirt or not, that satisfy both expert and beginner Enduro-bikers.
All the above, in the absolute respect of nature, animals and people living in those surroundings. We offer you an endless variety of tours and together we will enjoy the beauty of our land.
Each ride will be carefully studied and planned and based on the partecipants' level, their needs, abilities and expectations.
If you are an extreme Enduro – rider... you will find a tour suitable to You! Our long experience and solid technical background in this competitive sport and the in-depth knowledge of this land will satisfy the most expert Enduro-riders, pros and beginners, who decide to discover our regions, unknown for them... and we will be very happy to satisfy you!
PREPARE TO GO!
Lenght of the tours: from one to more days, as per your…

Riding-wear equipment and technical material: Every moto-biker knows how essential technical equipment…
For all the Enduro Tours we have an account with: LA GROTTA…

Wanna know more? For information about: • Tours through Tuscany – Marche…
OUR PHILOSOPHY
Enduro-riding...
...in good company, through the wonderful landscapes and trails of four Italian regions:
Tuscany, Marche, Umbria and Romagna.
Enduro-riding...
...it's a philosophy of life in which "four wheels" does not mean your dear old car but it means two friends riding together with their bikes where every dirt road, every field, every trail is the beginning of a new wonderful adventure.
Enduro-riding...
...is also knowing that at a certain time, whether it's lunch or dinner time, it's nice to put your bike on the stand, stretch your legs and take a seat at the table to enjoy some good local specialities.
Enduro-riding...
...is also the need of a restful and energizing night, after and adventurouse day, to spend in a nice lodge (bed&breakfast) or in a tent or in your sleeping bag, "counting the stars".