ATTILIO GINEPRO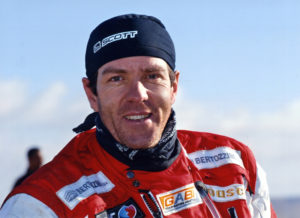 Born in 1966.
The passion for motorcycles runs in his blood and... and as often as possible, he's riding it.
He's always been a motorbiker, since birth, and thanks to this passion, he had become a pro. He has participated in many competitions such as Paris – Dakar, Pharaons Cross Country Rally, Rally de Tunisie... he can't even remember them all !!!!
Generally speaking, he loves riding my motorbike but he prefers Enduro and the off-road trails because, like he says:
it allows me to lose myself in nature, to live a different adventure every time , from the great African rallies to the Sunday rides or outings with my friends.
During his career, he has participated in different teams and in 2007 he founded Team Audax: it consists of a group of friends and pro-riders who are engaged in national and international competitions.
Attilio will be, along with the pros, the person in charge of guiding you in exciting tours discovering the Italian regions of Marche, Tuscany, Umbria and Romagna... and... why not?.... wherever our fantasy and our bike will take us.

CV

• Rally di Tunisia 1998
• Rally de Tunisie 1998
• Pharaons Cross Country Rally , from 1998 to 2003 and from 2006 to 2008
• Rally of Umbria 2002, 2004, 2005
• Rally of Sardinia 2002, 2004, 2007, 2008
• Rally of Sicily 2005
• Italian Championship and motorally ride from 1999 to 2008
• Paris – Dakar 2001,2002, 2006

• Paris-Dakar 2001: 29th placement 3rd private
• Paris–Dakar 2002 n.c.
• Paris–Dakar 2001: 29th placement, 3rd amateur
• Paris–Dakar 2006: 47th placement, Italian 2nd place
• Pharaons Cross Country Rally 2006: 1st placement cat. Marathon
• Pharaons Cross Country Rally 2007: 3rd placement cat. Marathon
• Pharaons Cross Country Rally 2008: 2nd placement cat. Marathon